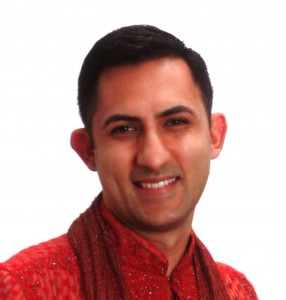 Vineet Chander is the Coordinator for Hindu Life at Princeton University.  He has also served as an adjunct professor, attorney, and communications consultant. His areas of specialty include the Bhakti movement, models of pastoral counseling, and the Hindu-American diaspora community. His writing has appeared in publications ranging from the Journal of Vaishnava Studies to the George Washington University International Law Review, and he has written regularly for The Huffington Post and beliefnet.com.
As the nation's first full-time Hindu chaplain and program director, Vineet's work with Hindu-American students at one of the world's premier educational institutions affords him a unique vantage point and powerful experiences from which to draw. Vineet's work with the Hindu-American community is also unapologetically autobiographical– he is a second-generation Hindu American, who was born and raised in New York City and discovered his own faith calling in his youth.
Vineet earned his Juris Doctor degree from the George Washington University Law School. He has also studied the theology and praxis of  Hinduism's Chaitanya Vaishnava tradition in a number of traditional ashram settings in both the United States and India.  To further his personal and professional development,Vineet is currently pursuing graduate study at Rutgers University in Religion with a concentration in Hindu Studies, under the tutelage of Professor Edwin F. Bryant.  
Vineet and his family live in Princeton, New Jersey.